Stone Italiana – Fuori Salone 2011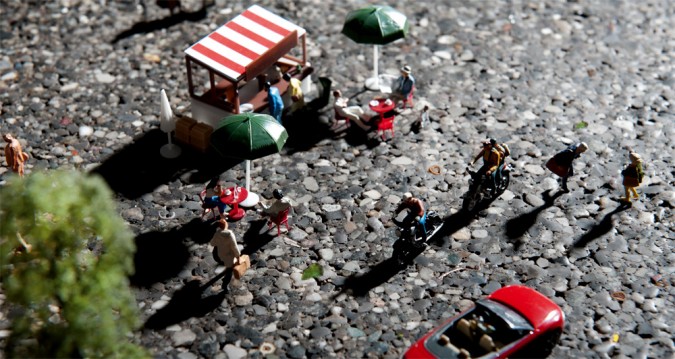 A material for conscious architecture, versatile, resistant, drains and is good for the environment.
During Fuori Salone 2011 Stone Italiana is presenting DNA Urbano, a new collection of slabs for exteriors and interiors made from dirt swept from the streets and realized in collaboration with CEM Ambiente Spa, a company active in forty-nine Lombard communities.
The collection DNA Urbano is inserted in the green philosophy of Stone Italiana, which has always been attentive to the environmental aspects of production and to researching new solutions that provide alternative, ecologic products with low environmental impact.
The principle component of the slabs, DNA Urbano (at 75% for outdoor, 55.7% for indoor), is earth obtained during the sweeping of streets, that grit that gets deposited alongside the sidewalk curb and which opportunely converted allows for the recovery of materials that can then become a new primary material. This permits energy savings, recycling and lowers the costs of elimination. In fact, in Italy, it is estimated that about 4% of the total refuse produced is composed of these sweepings of dirt. Recovering this could mean eliminating the whole cost of their being consigned to the dump. According to one study of an institute for research on the environment (Green Management), if Dna Urbano is used just for the pedestrian paving of Italy, equal to 20,531,580 square meters, it could eliminate the extraction of 821,263 tons of virgin material at a savings of 100 euro per ton for the costs of dumping for a total of 82 million euro.
The rest of the DNA Urbano slab is composed of sand, quartz powder, and polyester resin. This last is present in percentages that go from 4% to a maximum of 6.6%, in line with the requirements of the Ecolabel certification.
With DNA Urbano, Stone Italia continues the experimental course initiated with Arturo and Filippo Montanelli during the last Biennale di Architettura in Venice, when for the covering of the museum-installation Off Leash by Arturo Montanelli and Velasco Vitali, the first prototypes of the product were used outdoor. Then it was composed with a quartz agglomerate.
Today the dirt from the street sweepings of Milan is the protagonist of the slabs and therefore its name DNA Urbano, because "it contains the essence of the history of the city", because on the inside of the slab you might see a microchip, a piece of colored glass, a thread of iron, a seed, a flake of aluminum.
The DNA of the city.